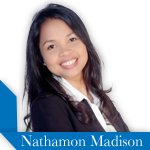 About Meet Me Now Bangkok and The Thai Lady Dating Events™
If you're a sincere guy looking for a genuine relationship, Nathamon Madison & her team at Meet Me Now Bangkok have made it their life's mission to connect you with compatible and sensational Thai ladies.
Not any lady, of course. Only those that they've personally met and guarantee to be eligible, truthful and genuine in their search for a real life partner. Thailand has some of the most beautiful & faithful women in the world. And now you can meet them in a way that's fun, safe and obligation free.