Legal Notices, Terms & Conditions
1) No person should rely on the contents of any of the information, products or services on this website without first obtaining advice from a qualified professional person. No person should act on any information, products or services provided before they have formed their own opinion through investigation and research as to the suitability of the information, products or services for their circumstances.
2) While every attempt has been made to verify the information on this web site and the product being sold, neither the product owners , distributors, agents or publishers assume any responsibility for any error, inaccuracies, and or omissions or assume any responsibility or liability whatsoever on behalf of any purchaser or reader of these materials. Any slight on people, organisations, companies or products are unintentional. The income statements and examples on this website are not intended to represent or guarantee that everyone will achieve the same results. Each individuals success will be determined by his or her desire, dedication, effort and motivation to work and follow the program. There is no guarantee or duplicate results stated here. You recognise any business endeavour has inherent risk for loss of capital.
3) Meet Me Now Bangkok Co.Ltd. and those participating in the event make no express or implied claims that you will make money as a result of following their advice and/or purchasing their services or products.
4) Meet Me Now Bangkok Co.Ltd is not an International Marriage Broker as defined under the new United States Federal legislation effective March 06, 2006. Meet Me Now Bangkok provides dating services that do not match U.S citizens / residents with aliens as our principle business and we charge comparable rates and offer comparable services to all clients, regardless of gender or country of citizenship.
5) Meet Me Now Bangkok Co.Ltd. is not engaged in rendering legal, accounting, professional or other advice or services.
6) By purchasing this service you hereby agree to never engage in a chain marketing scheme, to never send unsolicited commercial Email, or engage in unfair or deceptive marketing practices of any kind.
7) The service offered on this web site is for educational and information purposes only. Check with your lawyer, accountant, or other professional advisor before using this information.
8) You agree that Meet Me Now Bangkok Co.Ltd., Presenters and/or Affiliates are not responsible for any success or failure that you or your business may experience as a result of any information presented or any products or services offered at the Event.
9)You freely and of your own will risk any and all capital you may choose to spend implementing concepts outlined while using this service.
You will do so with skill and common sense. You will not hold Meet Me Now Bangkok Co.Ltd., the presenters and / or affiliates liable or accountable in any way for any failure of the service to live up to your expectations.
10) Your use of and browsing in the site and/or purchasing and this service is at your risk. Meet Me Now Bangkok Co.Ltd., nor any other party involved in creating, producing, or delivering the site is liable for any direct, incidental, consequential, indirect, or punitive damages arising out of your access to, or use of, the site or service. Without limiting the foregoing, everything on the site and included in the service is provided to you "as is" without warranty of any kind, either expressed or implied, including, but not limited to, the implied warranties of Merchantability, fitness for a particular purpose, or non-infringement.
11) Please note that some jurisdictions may not allow the exclusion of implied warranties, so some of the above exclusions may not apply to you. Check your local laws for any restrictions or limitations regarding the exclusion of implied warranties.
"I have to say that I've had a wonderful experience here at Me Me Now.Come down here treat yourself right meet a beautiful and wonderful Thai woman. You won't be sorry."
– Mr. Johnny, 48 years, Canada
"The matches you recommended are good, you don't feel as if your just after the money. It's not just working for me or for the lady but the team actually feels good if the results are good. You do feel that this is a genuine service."
– Mr. Steve, 56 years, England
"They treated me like a true VIP and listens to what I say and really get to know me as a person. I can't recommend them enough really without hesitations. You will be just as happy as I am."
– Mr. Brian, 57 years USA
"They take the time, they follow up, they go to dinner and have this exceptional experience. So, it's very warming and makes me feel really good. Definitely want to recommend to many gentleman looking for a very nice Thai lady."
– Mr. Bruce, 52 years, Canada
"They're very professional. More so, Meet Me Now Bangkok is the best dating site in Thailand for any Western man wants to look for a lovely girl. This is the site for you. Fantastic!"
– Mr. Louie, 54 years, UK
"Before I met her my life was very miserable. I'm so much happier, my life is so much brighter and nicer now. Thanks for all your help"
-Mr. Hero, 41 years, Japan
"Natamon, thank you and your staff for your very professional service. You have made many couples happy."
David & June
"Thank you so much for bringing such joy & happiness into our life. We will always be grateful for what you have done and your kindness."
Oliver & Deaw
"I thank Nathamon and her team for their professionalism and excellent support. This is a true and genuine agency who cares about providing the right service and help us find the lady who is perfect for you. They made me feel home here in Thailand. I will definitely recommend your services to every man who is interested in understanding Thai ladies and Thai culture. I wish you the best and still count on your support for the future."
Tony
"Miss Nathamon, Sheenah, and team. Thank you for all your work and help with finding my sweetheart. She is great and fun. I am looking at my future with her. Thanks again."
Nicholas
"Thank you so much. Being with you special ladies who so graciously took care of me and assisted me in finding the perfect woman for my life. Made my trip to Thailand and experience I'll always remember. Love you all."
Craig
"Khun Nathamon and your team are truly professional and you are a real breath of air. You all offer and give to me the most welcoming and relax atmosphere to meet a lady. I enjoy your sincerity in helping me search for my lady. You listen, advise and most of all you care."
Howard
"Gentleman if you are looking for a genuine dating agency in Thailand.
You cannot go wrong investing your time with Khun Nathamon and Khun Sheenah from Thai Lady Dating Events (Meet Me Now Bangkok).
I looked at a few dating sites and was very happy and glad that after speaking to them on the phone that I choose Khun Nathamon and Khun Sheenah to help me find and make my dating experience very relaxed and comfortable.
I cannot say enough about their professional support with a genuine interest in helping me find someone. It was a great relief to have found somewhere and someone genuine in assisting me look for someone special.
I never felt that I was ever on my own. In all aspects prior to meeting any ladies, going on dates and then the follow up and support given, for me was second to none in this industry.
The ladies that I were introduced to, where all genuine, their backgrounds where all checked also. They were lovely ladies, very well presented, dressed and excellent company to be with.
Gentleman, please take the time and speak to either Khun Nathamon or Khun Sheenah, you will be in very capable hands. I have no hesitation in recommending anyone who is looking at finding their special partner here. They will make your trip to Thailand very special experience. Don't fall for the bar girl scene, this is a genuine dating agency, a call is not much to lose, so give them a call and see for yourself.
Hope you also find true love and happiness also."
David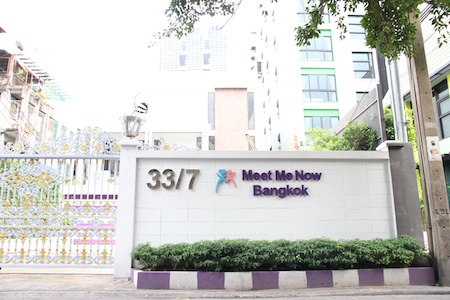 Meet Me Now Bangkok Co.Ltd.
33/7 Soi Pipat 2
Silom Road, Bangkok 10500
Thailand
Skype: Datethailadies.com
Phone: +66 2 667 0068
Fax: +66 2 667 0069
Email: admin@meetmenowbangkok.com
Office Hours: Mon-Sat: 10am - 5pm
Copyright © 2018 Meet Me Now Bangkok Co.Ltd. All rights reserved.